World's Mysterious, Beautiful Falls and Lake
Rainbow

Coloured

Grand Prismatic Spring, Wyoming, USA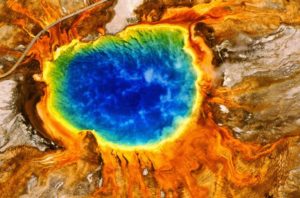 Yellowstone national Park in United States is famou
s for its mysterious Grand Prismatic Spring. This rainbow coloured hot spring attracts people around the world, and is one of the most amazing puzzles of mother nature. It is also known as rainbow coloured spring because of it bright multi-coloured pattern.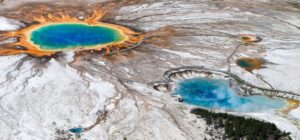 This spring gets its vivid colours as a result of growth of pigmented bacteria around the edges of spring. The colours produced by bacteria ranges from red to green, which depends on chlorophyll and carotenoids present in bacteria, and also on temperature ranges of water of spring, which lets growth of different coloured bacteria resulting in change of water colour.
Water in Hot springs comes out from cracks on the surface of earth. The water flows without any obstructions, thereby resulting in a continuous cycle of water rising, cooling and falling. These phenomena results in rings of variable temperature water in Grand Prismatic spring. Middle with very hot water and then moving towards outwards water temperature falls resulting in different colour bacteria to grow.
During summer the colour ranges from orange to red, whereas during winter spring edges remain mostly dark in colour. The centre of spring remains crystal clear blue shaded sterile water, making it a beautiful rainbow on nature's canvas. The sterile crystal clear water is because of depth of water in the middle and due to high purity of water. This spring in not for swimming lovers as water is extremely hot at the centre, also at the edges even if it is cool stay away because of bacteria.
Mount Rinjani, Lombok, Indonesia
An active volcano can be full of flora and fauna; can have unbelievable beautiful landscapes, lake full of crystal clear water, seems like an oasis in desert, but it is true. Mount Rinjani, an active volcano in Indonesia is one of the most mesmerizing places to visit in the world. 
It is also known as Gunung Rinjani. The height of mount Rinjani is 3,726 m (12,224 ft), and is the second highest volcano of Indonesia. It has faced a volcanic eruption on 01 October 2004. This area was converted into a national park in 1997, and covers volcano and lake called Segara Anak. The caldera is an oval shaped area of span about 6 km by 8.5 km, and is partially filled with lake. The lake is around 200m to 300m deep and is situated at a height of 2000 m above sea level.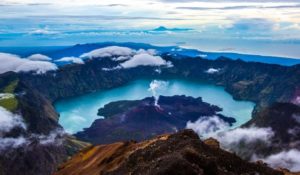 The lowlands of mount are cultivated with rice, soybeans, cotton etc. whereas highlands are covered with forests.

The sunrise and view of crater lake is awesome and breath-taking from caldera rim. From the top of the peak Bali to the west and Sumbawa to the east of it can be seen. Dry season of April-November is best suited for trekking. The early months of dry season are rainy causing slippery and unclear way for climbing. It is pretty cold at the height of 2000 m, therefore one must go with warm clothing.
Kuang Si Falls, Luang Prabang, Laos
Vietnam is among one of the world's paradise of nature, and Kuang Si Waterfall is like a gem in its feather. It is located on the outskirts of Luang Praban area of Laos, and is the biggest waterfall. The waterfall is a three tier one resulting in a drop of 50 meter making  spectacular blue coloured pools before flowing downstream. There are number of swimming holes naturally created in the pools, making it a great attraction for tourists.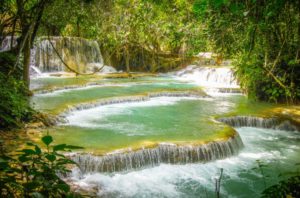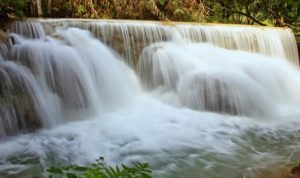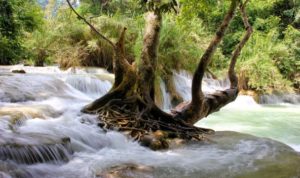 There are cascades of about five meter high with chilled water, surrounded by lush green jungle making it a suitable place for peace lovers. The trails available allows one to climb upto the top of fall, from where one can see the mesmerizing stream of water feeding into the falls.
As per folklore the water was summoned by an old wise man by digging into the earth. Then a golden deer made its home under a rock protruding from under the new waters. That's the story behind the name of fall, where Kuang means Deer and Si means Dig.

Northern Lake Baikal, Russia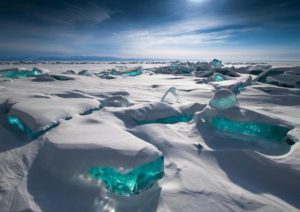 World's oldest, largest and deepest freshwater lake, lake Baikakl is situated in Siberia. This lake contains 20% of world's fresh water. This lake is about 25 million years old,and is a perfect home for more than 2000 species of flora and fauna.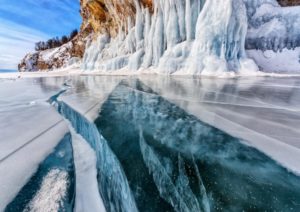 It is about 5,000 feet in depth with water, containing another four miles thick layer of sediments down to water. Due to its cold, water rich with oxygen it is the shelter of bizarre forms of life.

This lake covered with ice makes it a place with unmatched beauty.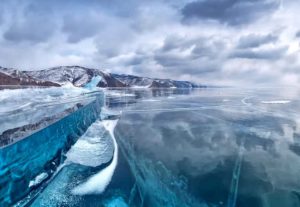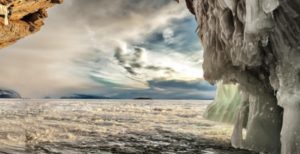 During Winter Lake water freezes and gives rise to phenomenal large sized transparent shards of ice, giving unbelievable turquoise ice appearance. This is one of the must visit places with unmatched beauty of white.
Kindly like us, Share us, Follow us and Comment.