This Indian Car Will Cover 100 KM in 1 Litre Petrol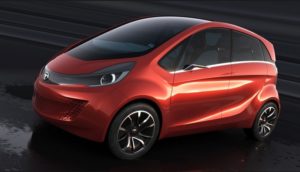 Generally hatchback cars have a mileage of 18-24 kilometre/litre. It means to cover a distance of 200 KM you will have to get your fuel tank filled with approximately 10 litre of fuel. Now can you imagine that you can cover this distance in just 2 litres of fuel? Yes those days are not far away, the leading car manufacturer of India TATA motors is all set ready to launch a car which will make this dream come true. The car is "Tata Megapixle". It is another ambitious project of Chairman of Tata Group, Mr. Ratan Tata. Its first look was released in Geneva Motor show, where everyone was very amazed to see such car. The car has been designed keeping in view the middle class population of India.
Tata Megapixel has very stylish and attractive design along with advanced features. The car will cover a distance of 100 kilometres in 1 litre, and once the fuel tank will be full it can cover a distance of 900 kilometres.
The car is a result of years long dedicated efforts of R&D team of Tata Motors. This car will fall in the category of Hatchback, and is a four seat car. It is a complete Eco Friendly car, with a vision of Tata to move towards Go Green Technology.
Engine and Transmission   
Tata megapixel is going to be the first perfect hybrid car of India. It is provided with electric drive generating 10 KW power at each wheel through electric motor provided on each wheel. The car has been provided with a single cylinder engine of 325 cc as an auxiliary power unit. The engine can deliver a power of 22KW. The car can achieve a maximum speed of 110 KM. It produces a torque of 500 Nm per tire. The car will emit only 22 grams/Kilometre of Carbon Dioxide, making it more environment friendly.
It is equipped with a Lithium Ion Phosphate Battery of 13 KWH capacity. The battery can be charged with an inbuilt petrol engine generator, which can charge battery during the move also.
Tata Megapixel would be capable of giving a mileage of 100 Kilometre/Litter under combined mode. It can run up to 87 kilometres for a complete charge, if run only on battery charge mode. A combination of completely full petrol fuel tank and battery charge would make car capable of covering a distance of 900 Kilometres under standard road conditions.
Advanced Features  
1. HMI (Human Machine Interface)
Advanced Human Machine Interface (HMI) is a unique technology used in it. This can control all functions of car like Temperature, Ventilation, Driving Mode or Performance etc. The car has also been provided with Park Assist System to easily park the car.
An innovative feature in the car is an Inductive Charging System. The charging system has a capacity to charge 80% in just 30 minutes to maintain a continuous supply of power. The battery can be charged by just parking the car above the Induction Charging Pad.
Solution to Urban Mobility 
The car has all wheel permanent drive mode with a turning radius of 2.8 meter. This feature is really an exciting factor to make this car suitable to drive in congested city traffic conditions in India. The compact size along with short turning radius when accompanied by advanced park assist system will make it a real delight to drive in narrow space.
Exterior and Interior  
The doors of this car are also a real feature of exterior of this car. The slider doors are really going to fascinate the Indian customers. Car looks are a bit similar to Google's Electric Car. The car also has very attractive and stylish
dashboard, Steering wheel, Music System and Wheel cover etc. The other features are panoramic roof, smartphone docking point, dashboard equipped with joystick controller just like iDrive of BMW. One touch tactile command centre.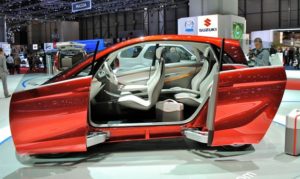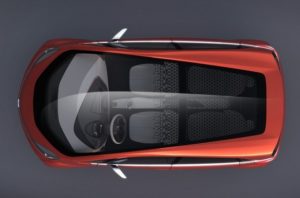 Launch and Expected Price 
The tentative launch of this car is scheduled in mid of 2017. The expected cost of car is around 5 to 6 lakh Indian rupees. 
Electric + Auxiliary Petrol Engine

4 Electric motors one on each wheel

Lithium Ion Phosphate 13 kWh

10 KW power at each wheel

500 Nm torque at each wheel

100 Kilometre per litter under combined mode

Combined Mode (Full Fuel Tank + Full Battery Charge)
Kindly like us, share us, follow us and comment.