Indian Parliament Building Design is Copy of 8th Century Shiva Temple

India is famous for its festivals and temples around the world. Madhya Pradesh (MP) a state in India, which is famous from ancient time for its religious and political activities that have huge impact on Indian History has one of the marvels which is not very well known to people now a days. This marvel is "Chaushath Yogini Temple".
This is the temple behind the design of Indian Parliament. The Indian parliament design prepared by British architect Sir Edwin Lutyens is a copy of the design of this temple.
Indian parliament was built in 1927, 20 years before the independence. The building was highly appreciated and is considered to be as one of the best wonder of architecture in the world.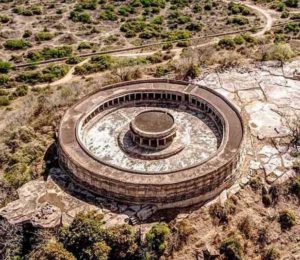 History  
The temple is devoted to Lord Shiva and is surrounded with statue of Chausath Yogini (64 Statues), believed to be as protector for the city. This glorious temple was built by King Devapala of Kalchuri Dynasty dynasty in 1055-1075 AD. This temple was an educational institute providing education of astrology and mathematics based on the transit of the sun.
Temple at a Glance 
The temple has lost its glory with time yet attracts the visitors by its amazing architect and historical significance. The temple is about at a height of 300 feet from the ground. It is the believed to be the place where of Goddess Durga lives along with 64 yoginis or shaktis. These yoginis are the different forms of the Goddess as per India mythology. Though the temple has been partially damaged, it speaks greatly of the ancient dynasties that ruled in Jabalpur.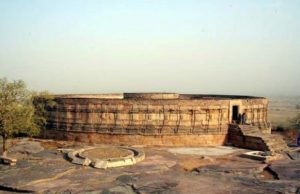 It is circular in shape with a radius of 170 feet and its complete periphery is divided into 64 chambers, and each chamber contains "Shiv Linga" and a statue of "Yogini" that is why it was called Chausath Yogini Temple, most of the statues are lost now. The main premises of the building have a big temple devoted to Lord Shiva. The roof of entire structure is flat. A large courtyard passage is between outer circular wall and a central temple.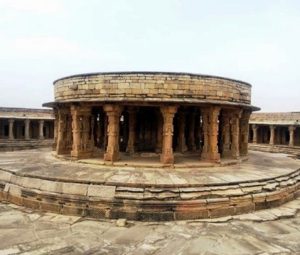 The main central temple has slab coverings with perforations in them. The rain water drains from it to a large underground storage system.
The temple is resting on more than 100 pillars of granite stone, and around 150 steps are there to reach to the shrine. Temple was built with very simple design but the statues of Yoginis were carved with great perfection and are master piece of architecture. The environment around temple is very calm and composes, giving a mysterious piece of mind.

How to Reach 
The temple is situated in Mitaoli village, near Padaoli in Morena District of Madhya Pradesh state. It is well connected by rail, road and air services. The nearest airport is Gwalior and railway station is Morena.